Playa Guiones is a small, Pacific coastal community near Nosara on the Nicoya Peninsula in the Guanacaste region of Costa Rica.
Visitors should fly in to  Daniel Oduber Quirós International Airport (airport code: LIR).  Guioness is about 2 1/2 hours southwest from LIR.  Transportation options from the airport include: a pre-arranged shuttle (most expensive option), renting a car (best to plan ahead and only for the adventurous since many roads in Costa Rica are not well marked and are often unpaved), taxis are abundant (at this point, you should only see "legal" taxis after you exit the airport doors); you could also consider taking the public bus (cheapest option, but there are no direct routes, so you'll have to make a few transfers – this will take you longer to get there), and of course, there's a great chance that some people on your flight are heading in the same direction, so ride-sharing or hopping a ride is another option and a great way to make new friends (of course, use your best judgment and chose the option that words best for you).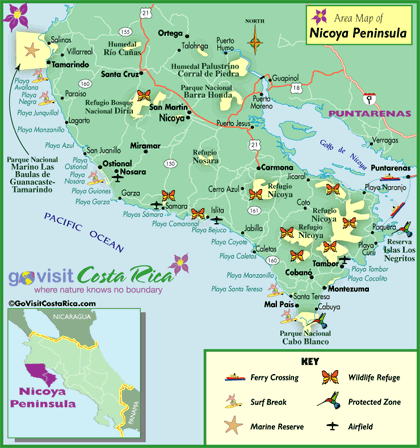 Guioness (click the link to see my "Surf Beach" comments on TripAdvisor) is a small, laid-back community with one "main street".  It attracts many surfers and yogis. Those seeking serenity and solitude might best enjoy this area.  Those seeking abundant night life would be happier in Jaco or Tamarindo or even Coco Beach.  Those seeking beach bar service, lounge chairs, and touristy beach activities should research resorts (there are several options throughout the country).
Although I never stayed in the "town" proper, twice I stayed just outside of town.  My first trip to Costa Rica, I stayed at a remote yoga retreat south of Guiones.  There are several good yoga retreat options in the area, so I don't want to promote or recommend one.  December, 2014, I stayed at Jungle's Edge, which was located about a 30 minute hike to Guiones (click the link to see my "Glamping" comments on TripAdvisor).
Hands down, my favorite meal while staying at Jungle's Edge was at Dolce Vita, which is seemingly in the middle of nowhere, but within walking distance of Jungle's Edge. (Click the link to see my "Slice of Heaven in the Middle of Nowhere" comment on TripAdvisor)
Right in Guiones, near the beach, is a very popular restaurant, Beach Dog Cafe where you can get breakfast, lunch, dinner, and of course, drinks. (Click the link to see my "Local Flavor" comment on TripAdvisor)
La Luna was another outstanding dining option. (Click the link to see my "Italian in the Jungle" comment on TripAdvisor)
While visiting the Guiones/Nosara area there are many tours and activities from which to choose.
If you visit between July and December, you MUST plan to visit Ostional Wildlife Refuge to observe the turtles nesting.  This refuge, just south of Guiones, protects the Olive Ridley sea turtles as well as the Leatherback and the Pacific Green sea turtles that come ashore in huge numbers every year to nest and lay their eggs; this phenomenon is known as 'arribadas'.
(I did not take this photo; but it is an actual photo – it was texted to me by a friend in Samara)
One of the few "touristy" activities I highly recommend is zip-lining above the jungle.  As an outward expression of letting go of my inner control freak, I am so thankful that I faced my fears and decided to give zip-lining a try.  Check out Miss Sky Canopy Tours; it is the longest canopy tour in the world.